A nutty flavored classically popular strain.
Type: Indica Dominant Hybrid
Notes: Nutty, Earthy, Woody
Mood: Relaxed, Happy, Giggly
Main Terpenes: Limonene, Valencene, and Caryophyllene
A TOP FAVORITE STRAIN: PEANUT BUTTER BREATH
If you like peanut butter, then you are going to find this strain very likable. The Peanut Butter Breath popularity stems from an underlying nutty fragrance composition. It doesn't necessarily make your breath smell like peanut butter. But it won't give you away easily after a smoke, either. This strain also goes easy on your mental faculties. It allows you to make polite conversation at gatherings.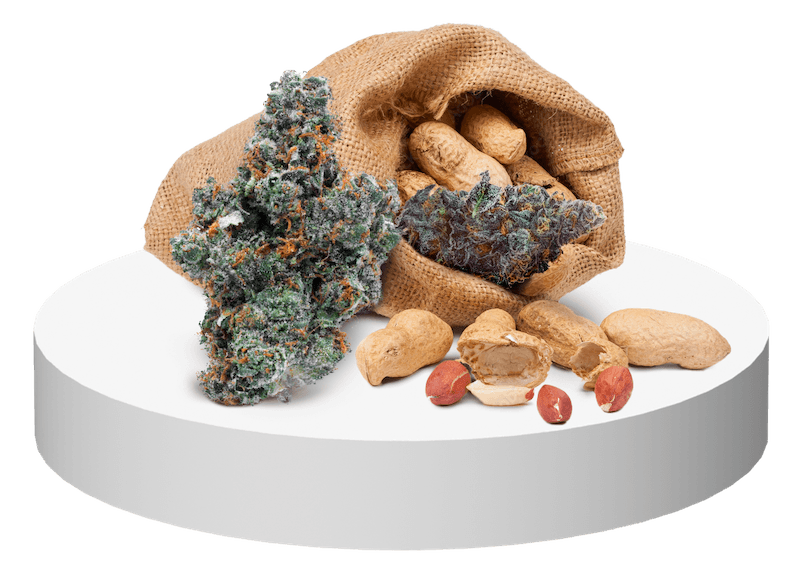 THE PEANUT BUTTER BREATH LINEAGE
A cross of Do-Si-Dos and Mendo Breath, Peanut Butter Breath was originally bred by ThugPug Genetics. Clout King created another variant called Peanut Butter Cup by combining the very same two strains, Do-Si-Dos and Mendo Breath. There are several other breeders that have made strains from the same lineage. This just goes to show what a great combination Do-Si-Dos and Mendo Breath are!
The main terpenes in Peanut Butter Breath are Limonene, Valencene, and Caryophyllene, lending it its unique flavor profile. Some users report a chocolaty peanut butter aftertaste. While, others say, it has a buttery, earthy, and woody flavor and even a chestnut taste. Peanut Butter Breath is a great smoke before a meal. It works up an appetite. Be sure to have some snacks handy!
THE BEAUTY OF PEANUT BUTTER BREATH
The Peanut Butter Breath flower has its own unique appearance. Dark forest green buds, a glistening coat laden with white trichomes featuring purple hues, and fiery red-orange pistils. The grape shaped Peanut Butter Breath buds are quite dense with an unmistakable earthy smell.
GETTING YOUR HANDS ON PEANUT BUTTER BREATH
While you may not end up in a couch lock, the Indica takes over after a while. It slowly brings you into a state of relaxation. If your day hasn't been all that great, peanut butter breath can come to the rescue. Check out the HerbNJoy selection of Peanut Butter Breath products by clicking on your location:
Peanut Butter Breath is the perfect cannabis strain choice for an evening. A time when you want to chill with family or friends for a while before calling it a day.